Sarah E. Ladd Book Reviews
I had the pleasure of working with Ms. Ladd on her book launch team for her novel A Stranger at Fellsworth (2017). She is one of the nicest women I have ever met. She is a very personable author who loves to connect with her readers.  If you are interested, check her out on her Facebook page at http://www.facebook.com/SarahLaddAuthor, or on her GoodReads page at https://www.goodreads.com/Sarah_Ladd. Trust me when I tell you, it is a lot of fun getting to know the author of your favorite books. They truly are such cool people!
---
The Heiress of Winterwood (2013) — book 1 of the Whispers on the Moors series — 4 STARS — this is a clean Christian Historical Romance set in England in 1814.
"I lost so many blessings while confined in the prison of my fear."
This is Ms. Ladd's debut novel, and it is a pretty good read.  It begins a little slowly, but the premise was enough to keep me reading: Amelia's dying friend asks, on her deathbed, to care for her infant child. Against her parent's, and society's wishes, she accepts the child lovingly.  Then, enter the baby's father, a very strict sea captain.  After its initial slow beginning, this book really picks up. The adventure, intrigue, and romance make this book worth reading.  I really loved the characters, Amelia and Graham. They are very realistic, and the troubles they go through make this book a page turner. It is definitely a great debut novel, and proves that Sarah E. Ladd is a Christian fiction author to follow!
---
The Headmistress of Rosemere (2014) — book 2 of the Whispers on the Moors series — 4 STARS — this is a clean Christian Historical Romance set in England in the early 1800s.
Overall, I did enjoy this story. At about 15-16% of the way into the story, I felt like there was some unneeded exposition for a character who was introduced in book 1.  I understand the need to make the book as stand alone as possible in order to ensure that readers keep reading the book. I get that people picking this book up not knowing about book 1 may need a bit more exposition than those who have read book 1, but to me in this book it just felt like a few pages too much. I kept wanting Ms. Ladd to get her characters to get to the action.
Compared to the first book, this book is rather slow. The action is really slow in coming. By about 69% of the book, I was still waiting…but, oddly, I did not hate this book. The story is good. I think my issue was that I was comparing it to book 1 and expecting it to be like book 1. So, moral of this review is…this book is NOT like book 1.
I liked the two main characters very much. They are very well written. Ladd is good at characterization. They felt real, their issues were real, and how they reacted to what God put into their paths was very real! And, when the action finally came, it made the book well worth the read.
---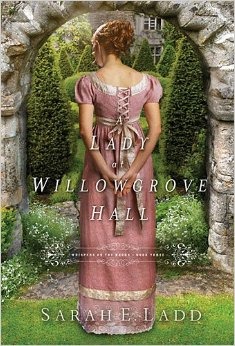 A Lady at Willowgrove Hall (2014) — the final book of the Whispers on the Moors series — 5 STARS — this is a clean Christian Historical Romance novel set in England in 1819.
I love this book. Personally, I think it is the best of the three books in this series. By the 15% mark, I was hooked and entirely captivated! The premise for this book is all about secrets, and how secrets left hidden fester, which is something I think many of us can relate to — that sense of guilt and pressure and fear that can overwhelm and suffocate us all to keep something hidden. It is really not worth it!
There is SO much internal conflict going on in this book that the reader cannot help but feel deeply for Nathaniel and Cecily. It's heart-rending! Many times, I wanted so badly to fix everything for them. The characters in this book, Nathaniel and Cecily, are so well-written and so realistic. How they deal with their internal struggles is so real to life.
The writing for this novel is superb. The imagery is flawless. It was like I was inside the story walking the moors with Cecily, and walking through the halls of Willowgrove. I highly recommend this series, and absolutely recommend this novel!
---
The Curiosity Keeper (2015) — book 1 of the Treasures of Surrey series — 3.5 STARS — this is a clean Christian Historical Romance.
The premise for this book is engaging: Camille, an independent and lonely young woman, whose mother abandoned her and her father, works for her shady and selfish father in his shabby curiosity shop. Jonathan Gilchrist is the second son who inherits everything when his brother dies. In no way does he want to be the heir to anything, Jonathan wants to keep his position as village apothecary. But, a violent betrayal brings Camille and Jonathan together. And, in the middle of all of this is the mystery of the large, beautiful, and priceless ruby — The Bevoy. There is so much here to potentially love!
I give this novel 3.5 stars. I had huge expectations for this novel, but I felt it was sluggish until roughly chapters 28-30. By that point, the novel PICKS up and becomes such a great read. By about chapter 30, I felt that the characters finally developed into a chemistry I could buy into, and then I rooted for them hard! Before these chapters, I just had a real hard time relating to the two main characters. I did like the Bevoy mystery though.  That part was intriguing to me, and well written.
---
Dawn at Emberwilde (2016) — book 2 of the Treasures of Surrey series — 5 STARS — this is clean Christian Historical Romance.
"Remember, with each dawn seek guidance, and with each night give gratitude."
I love this book! I enjoyed reading it so much. This novel is a super fast-paced read filled with excellently written characters. Mr. Galloway is my favorite character, and the best part of this book!!!
The premise for this book: Isabel is a beautiful young woman who teaches at Fellsworth School. She is also the guardian to her little sister, Lizzie. Isabel and Lizzie are on their own now that their parents have all passed. Enter a dashing young man who comes to the school one day with news that Isabel has relatives who want her to move in with them. So, Isabel and Lizzie leave what they know for the wilds of Emberwilde, both the imposing mansion and the forest! Two men set their sights on Isabel, something dangerous is happening in the forest of Emberwilde, and her new family members are a little off. All of this leads to one of the best novels I have read!
The mystery of the forest is very well done. By the 38% mark in this book I was hooked and had many, many questions that needed answering. I could not put this book down. I needed to see how the mystery would play out, and I needed to see who the main character, Isabel, would choose (there is a frustrating love triangle — it is SO clear who Isabel should choose!).
This is an example of a well-written Regency-era novel. Could be Ladd's best to date. I highly recommend this novel. It perfectly illustrates Ms. Ladd's writing talent.
---
A Stranger at Fellsworth (2017) — book 3 of the Treasures of Surrey series — 4.5 STARS — this is a clean Christian Historical Romance.
"You have given me more than you realize, Annabelle. The more I know of you, the more you give me hope for a different type of future, and for that, I am indebted to you, whatever the future may bring."  —Owen Locke
I had the privilege of being part of Ms. Ladd's book launch team for this novel. It is such an honor getting to read for an author in order to help promote novels!!! And, this novel is pretty awesome!
The best part of this novel is Owen Locke. He is exactly the kind of protagonist one wants when reading a Regency novel. Owen is a genuine character. He is a realistic character. He is a rational, God-fearing gentleman. His moments in the novel are the best; his moments are action-filled, heroic, sweet, and fast-paced. He is a very believable and well-written character.
The story has some excellent, fast-paced, page-turning sections. But, there were also moments that felt tedious. I think it's because some of the characters were more caricature than fully-fledged characters. I felt like the "bad guys" were too one-dimensional. They had no moments where they could have been anything other than the "bad guys." I envisioned each villain as having "bad guy" mustaches that they twirled whenever they were on scene. And, because they are horrendous on page 1, I figured out the mystery easily. That's a little bit of a letdown.
I did appreciate Ms. Ladd's ability to write an ambivalent character. Annabelle makes a very brave and intelligent choice to leave her abusive family even though she loses her entire way of life. Watching her struggle with her change in social status was realistic and very interesting. There were moments where she instinctively expected certain things to be done, but then realized she had to figure things out on her own. It made for a realistic and engaging read.
Overall, I do recommend this novel. The story is a sweet, endearing, and quick read.