Roseanna M. White Book Reviews
Worthy of Legend
To read my review of this OUTSTANDING concluding story to what has been a fantastic series, click HERE.
---
Shadowed Loyalty
To read my review of this unique and amazing story, click HERE.
---
To Treasure an Heiress
To read my review of this excellent story, click HERE.
---
The Nature of a Lady
To read my review of this outstanding novel, click HERE!
---
On Wings of Devotion
To read my review of this amazing story, click HERE!
---
The Number of Love
Click HERE to read my review of this EXCELLENT novel.
---
An Hour Unspent
Click HERE to read my review of this wonderful conclusion to the Shadows of England series.
---
A Song Unheard
Click HERE to read my review of this AMAZING novel.
---
A Name Unknown
Click here to see my latest blog post on this fantastic novel!!!!
And, in case you missed it, I also have a link to the interview I did with Roseanna in May. But you can click here to go straight to that interview.
---
In case you missed one…
Video book chats with Roseanna M. White take place on Monday nights at 7 pm EDT. Go to www.Facebook.com/RoseannaMWhite to join the chats Monday nights.
Love Finds You in Annapolis Maryland
---
This Just In…Interview with Roseanna M. White!
Roseanna's next novel, A Name Unknown, is due out in stores on July 4, 2017. I cannot wait for its release!
I emailed Ms. White a couple days ago (May 17, 2017) asking if it would be ok to interview her in anticipation of her new book, and she graciously agreed!!! I admit to being a little starstruck and giddy. LOL! What follows are her awesome responses to my five questions, and I hope you enjoy. I think my favorite response is her answer to #4…I can totally relate.
1. The premise behind A Name Unknown sounds so unique and intriguing. What inspired you to write Rosemary and Peter's story?
While researching for the Ladies of the Manor Series, I came across the information that King George V of England changed his surname during WWI from the Germanic Saxe-Coburg to the more English-sounding Windsor. That was the starting point of my inspiration for A Name Unknown. What if, I wondered, there were other Englishmen of German descent who considered doing the same?
From there I just started doing some general WWI English research and happened across more tidbits that intrigued me. For instance, artists—painters, writers, you name it—were employed by the British government to include pro-war propaganda in their works. This combined with my above idea until I had a reclusive writer of adventure novels, who chose to use a pen name so no one knew he was of German descent.
Then, of course, I needed a heroine. I'd just finished reading a book my best friend/critique partner wrote that included a thief, which is no doubt why I decided that Rosemary and her family should be a gang of street thieves with an unusual code of honor. I decided to create a mysterious employer known only as Mr. V to propel each member of her family on the tasks that lead them into their adventures in each book. I absolutely love how the characters came together!
2. While writing A Name Unknown, did you run into any snags? Maybe in the research portion of the writing, or the writing itself? If so, what did you do to overcome this issue? (I teach Freshmen 9 and AP Lit Seniors, and I always have a few budding authors, what would you recommend to students who run into snags in their writing?)
Though almost all my books have a suspense/mystery thread, that is SO not the part that comes naturally to me. In this one, one of the major things I slaved over—both in the first round of writing and at the request of my editors—was finding a satisfactory balance for the suspense, especially toward the end. As usual, my climax demanded a rewrite, and I had to insert a whole new villain.
These sorts of things almost always come up. My answer is usually just to push through, running ideas by my critique partner and/or my husband as I'm writing it. Then waiting for their feedback after I've finished and given it to them to read. Even though those trouble-spots often require even more work than what they recommend, I've learned over the years to accept and even enjoy that process of pushing myself to make the story better. It didn't come naturally! For years I resisted changing anything in my stories, but after doing some work as an editor, I came to understand the value of that professional input, and now I can't imagine putting out a story without first having those constructive critiques!
3. What is your favorite part of the writing process? Why?
Definitely brainstorming. I love that initial burst of an idea and then fanning its flames to see if it'll really take off and come to life or not. The actual writing is great fun too, of course, but I'm definitely an idea girl! There's something about those shiny new ideas—that have not yet been subjected to the scrutiny that actually writing them requires, and whose plot holes are blessedly unknown—that I find quite tantalizing. Usually, in the course of a day or two, I can have a complete book idea worked out, with general thoughts down about where the characters will go and who they are. Much of my discovery happens as I write—I don't plot out every scene ahead of time or anything—but generally speaking it just deepens and expands what I came up with in my brainstorming sessions rather than demanding I give up that premise that got me started. (Though there are times…)
4. How do you balance being a wife, mother, and writer?
Oh dear. Well, for starters, I neglect the housekeeping, LOL. I'm trying to be better about that and plan to teach my kids some handy-dandy responsibility for it this summer, but when it's crunch time, that's what slides by the wayside. In general, I handle juggling the priorities by getting up at 5:30 so I have some dedicated work time in the morning before our homeschool day begins. And rarely do I write in the evenings—those are generally when I hang out with my hubby. Unless a deadline is looming and I haven't met my word count for the day, but that only happens for a week or two a year.
5. If you could meet any author — past or present — who would it be and why?
Probably Lucy Maude Montgomery. Her books were my favorites as a kid, and when I reread the Emily Series in my twenties, I realized how much of my own life I'd modeled on Emily, who is a fellow writer. With the new Anne with an E series out (haven't watched it yet, so I can't comment on it), I've learned a lot more about her as a person and a writer and think even more that I would love to sit down with her and chat about the books she wrote, the books she wanted to write, the constraints society put upon a female author in her day, and how her heroines have inspired generations of girls, myself included.
---
MORE Roseanna M. White Book Reviews
---
A Stray Drop of Blood (2009) — book 1 in the Stray Drop of Blood series — 5 STARS — Some graphic violence and slight sexual content; this novel is set in 1st c. Jerusalem and Rome.
Abigail is a stunning protagonist! I love her so much. All that she goes through, all that she overcomes; the emotional roller coaster is fierce! She is an excellent example of a character who grows leaps and bounds over the course of the novel. What happens to her throughout this book is SO intense that there were moments I had to put the book down so I could breathe. BUT, I couldn't keep the book down for long!
I love when Biblical fiction illustrates or showcases a particular Biblical moment from a new perspective. It really gets my brain going, and I end up researching and learning something new about the Savior I already love so much. The crucifixion scene in this novel 100% did this for me. It is one of the most powerful scenes I have ever read in a novel. I recommend a large box of tissue at that scene.
One aspect I must comment on is the sheer amount of research Ms. White clearly did for this book. Not only is her Biblical knowledge and 1st c. Roman and Jewish cultural history so strong and thorough, but her knowledge of classic Greek and Roman texts is impressive. It is obvious the amount of work put into this book.
If you appreciate Biblical, historical romance novels, I highly recommend this book. Just make sure you have adequate time and tissue when you read this book. You won't want to put it down, and it is a bit of a roller coaster.
---
A Soft Breath of Wind (2014) — book 2 in the Stray Drop of Blood series — 5 STARS — this Biblical fiction story is set primarily in Rome when the first Christian churches were forming; there is a major focus on spiritual warfare and demon possession.
This story is AMAZING! I loved every second of this book. As with book number 1, I truly appreciate when a Biblical novel enhances my Bible readings and understanding. This book does this in spades! I have always struggled with spiritual warfare. I believe it is happening, I just couldn't really wrap my mind around what exactly that could look like. Having read this novel, I feel like God has really illustrated what this looks like through Ms. White's imagination. It has really left me with a larger feeling of hope!
I love Zipporah. She is one of the best protagonists I have ever read. She is so strong, so brave, and so good…and, totally realistic. Her struggles really gripped my heart. She is definitely someone I would want as a friend.
I love this book. In many ways, I love it more than the first book. It does leave an opening for a 3rd novel in the series, and I hope a 3rd book is in the near future. This book is well crafted, beautiful in its prose, and such a page-turner. I highly recommend!!
---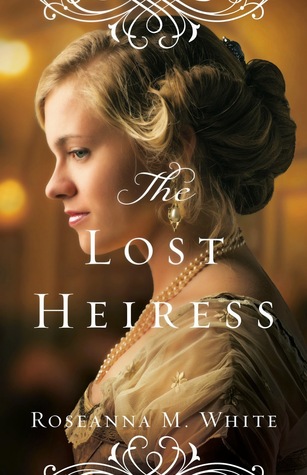 The Lost Heiress (2015) — book 1 in the Ladies of the Manor series — 5 STARS — this novel is a clean Christian Romance/Mystery.
I highly recommend this novel. Such an intense story that I could not put down! At first, I was a little nervous because it was a little slow in the beginning. But, by pages 40-50, this book takes off, so stick it out if it feels a little slow.
The mystery in this novel is excellent; I truly had moments I couldn't figure out how the book would end, and that is not typical for me. I usually can figure stories out by about the midway point. So I was thrilled to be stumped a little!
The characters are fantastic, and I definitely had a pair I was rooting for. I love their personalities. I love their quirks and idiosyncrasies. It made them very real to me. This novel does deal with wealthy people. I mean the true 1%. I was worried at the beginning to in the sense that I didn't know if I would be able to relate to these characters and their issues. But, this novel is a very believable story with very real characters who deal with issues I deal with too.
---
The Reluctant Duchess (2016) — book 2 in the Ladies of the Manor series — 5 STARS — this novel is a clean Christian Romance/Mystery, but it does deal with the issue of rape and the PTSD that comes from such a traumatic event. The author treats this issue with kindness, grace, and honesty.
I love this story, and I especially love Rowena. Many times throughout this novel the mom in me wanted desperately to wrap her in my arms and hug away her pain and her fears. Her pain and trauma in this novel are SO real. The way Rowena deals with her trauma and pain is exceptionally real, and many times I had a very hard time not crying. But her overcoming her pain and trauma through Jesus is amazing to read. Her growing friendship with her husband, Brice, is so beautiful to watch. I cheered for them the entire story, and there were moments I wasn't sure they could make things work. Their relationship is very true to life.
This story is action packed; definitely a page-turner. The mystery is there, as in the first book, but what is really present is the trauma and pain Rowena endures. Ms. White deals with this issue very well. She is very respectful of the situation, and she sweeps nothing under the carpet. I personally loved this about the novel.
---
A Lady Unrivaled (2016) — the final book in the Ladies of the Manor series — 5 STARS — this novel is a clean Christian Romance/Mystery.
I absolutely love this book! First, of the three covers in this series, this is my favorite. I think the model perfectly conveys the wonderful personality of Lady Ella Myerston. It is a gorgeous cover!
This novel is a page-turner with never a dull line! Ella is adorable and her way of seeing the world and the Lord is refreshing. There were many moments in the story that endeared her to me. She is the type of woman I hope my daughter one day becomes: she is smart, innocent, beautiful, loves God with her whole heart (so much so, she can't understand not doing so!), and she can see the truth and best in someone. When she falls for Lord Cayton, the true example of a man who once chose to not live a Godly life but then realizes it is the only way to live, I rooted SO hard for these two. Their love story is very reminiscent of Belle's and Rumple's in the T.V. show Once Upon a Time (ABC). Many times, Lord Cayton doesn't think he is able to have a relationship with Ella because she is so innocent and good and clean, and he is not. BUT, love and God's forgiveness prevails!!!
The characters in this novel are charming, intelligent, witty, flawed, and so realistic. The overarching mystery that began in book 1, ends in this novel, and it ends in a satisfying manner. And that is all I am saying on that because I hate spoilers so much! LOL! This is a great book in such a great series, and I am sad the series is complete. I want more of these characters and this wonderful fictional world.
---
Giver of Wonders (2016) by Roseanna M. White is a novel that illustrates a truer picture of St. Nicholas than what the world has sadly turned him into. I give this novel 5+ STARS. It is a clean Biblical/Historical novel.
Before I begin with my review, I want to quote the author on why she wrote this novel. I think it puts the purpose of this book into perfect perspective.
"My prayer is that you read this interpretation of who Nikolaos may have been as a young man, you come to appreciate that he was so much more than our traditions today give him credit for being. My prayer is that we can all take a few cues from him…that our gifts become less about us. And more about [God]."

–Roseanna M. White
I admit, that I dislike most holidays. I dislike most holidays for many reasons. First, and possibly foremost, my parents divorced when I was 12 and holidays became days filled with fights and tension. They became days I dread to this very day. I specifically dislike Thanksgiving and Christmas. On those days, we would have to maneuver between my mom and dad's houses. There was always bad blood and bad words. It's really hard to explain the type of tension I feel when holidays come around (unless, maybe you have experienced the small slice of hell that is angry, fighting, tense divorced parents), so this may make no sense. But, to this day I hate when holidays come up. For me, it is not a time of rest and laughter and love. It is a time of guilt-induced stress: someone will be left out, and I HATE it. But, I also hate these days because they are SO fake. Even people who claim to love Jesus, really make these holidays about the turkeys and the gifts given.
Why explain my dislike of holidays in a book review? Because I bought this book a year ago and kept putting it off. I put off reading it because I struggled to come to a book I already knew would be about Christmas and St. Nicholas. I only bought the book because it is written by White, and her other novels are amazing, and I wanted to support that talent, but I was not excited to read it like I have been with her other novels. I should have read the Note from the Author pages when I bought this book. Then I would have read Ms. White's intentions for the book and would have realized that this book is not about Christmas as it is today. It is not about commercialism, nor is it about a jolly, fat man and elves and reindeer. This book is about a man who loved GOD so much he sacrificed everything in order to serve HIM. This book is amazing. It made me laugh, cry (often — there is a really mean father in this book), cheer, and hold my breath in anticipation. At one point, I genuinely looked at my husband and commented that I didn't know how this book could possibly have a happy ending (it does though!).
The characters in this book are genuine and absolutely believable. The main characters are Cyprus, Petros, and Nikolaos. Cyprus is a 14-year-old woman, Petros is the man in love with Cyprus, and Nikolaos (who also loves Cyprus) is Petros's cousin and best friend. He is also the man who will one day be a Christian legend. What I love so much about this novel is the real-to-life scenarios and emotions that her characters find themselves in: moments where they are unsure how to do the things God wants them to do, moments where their faith is tested, moments where their emotions are brought to the brink or rawness, moments where they have to make a hard choice — do they make the right one and please God, or the wrong one and choose themselves?
What White does so well in this novel is to illustrate how knowledge of the right thing to do constantly battles with the emotions clogging brains begging them to do the selfish, wrong thing. True to life, we are met with choices every day. Many times, we listen to the Voice of God and feel in our chests the right answer, but chose the thing that will make us feel good at that moment. This novel does a good job exploring this issue.
And, of course, this novel does touch on the notion of gift giving. The ultimate gift ever given to man was that of Jesus Christ. God gave HIS one and only beautiful, perfect Son to people who hate Him, who curse Him, who deny Him. There is no other gift in this world more perfect than Jesus. And, Nikolaos got this. He understood that the best gift to give is the anonymous kind. Why? Because ultimately we humans feel indebted to the one who gives a gift. We humans then try to pay back the gift with a gift of our own. Then we lose sight of who we need to bless. In the novel, Nikolaos explains, "They cannot know Dorus. They will feel indebted to me. They will try for the rest of their lives to pay me back–or else they will shout of my generosity far and wide, and this will become about me rather than about God. And that is not what a gift should be. Not about the giver. A gift, a true gift given from nothing but love, should be done in secret. So that God alone sees. So that the giver's only reward is what the Lord decides to bestow. Not even the joy of seeing their joy. Just the joy of knowing one did what one ought" (242, the emphasis is mine). This is what giving should be about. It should show the person receiving the gift a picture of God, not a picture of me. All praise is God's, and should forever be!
This novel is amazing. I highly recommend this book to anyone, especially those who need a reminder that holidays are still God's, and that there are still people out there willing and wanting to do the right thing for God's sake.
---
Ring of Secrets (2013) by Roseanna M. White is the first book in the Culper Ring series. This novel comes in all forms including eBook and is roughly 352 pages. If you purchase this novel from Roseanna's website, she will autograph the book for you! Her prices are exceptionally reasonable. If interested, check out her store at http://www.roseannamwhite.com/shop. With a full-time job and a five-year-old at home, I was able to read this novel in one week. I give this novel 4 STARS. It is a Christian Historical Romance/Spy novel set during the American Revolutionary War.
Overall, I did enjoy this novel, but it moved slowly for me. I am not entirely sure why it took so long for me to read, but I could put this book down. There are many positives to this novel: I love the characters, the writing is flawless, and the action is there. But, for me, there were negatives. I think my problem stems from all the constant falseness and lying. I understand why the characters do what they do in this novel, and there is no judgment there. They really did have to behave how they did for very important reasons. I think I am just not a fan of spy novels. When the novel focused on the relationships, I couldn't put the book down, but when the characters were being fake I just couldn't get into it.
Here is the novel's premise (from the back cover):
Winter Reeves is an aristocratic Patriot forced to hide her heart amid the Loyalists of the City of New York. She has learned to keep her ears open so she can pass information on British movements to Robbie Townsend, her childhood friend, and his spy ring. If she's caught, if she's hung for espionage…well, she won't be. Robbie has taught her the tools of the trade: the wonders of invisible ink, drop locations and, most importantly, a good cover.Bennet Lane returns to New York from his Yale professorship with one goal: to find General Washington's spy hidden among the ranks of the elite. Searching for a wife was supposed to be nothing more than a convenient cover story for his mission, but when he meets Winter, with her too-intelligent eyes in her too-blank face, he finds a mystery that can't be ignored.Both are determined to prevail at any cost…and each is committed to a separate cause. Will God lead them to a shared destiny or lives lived apart?
When I first met Winter, she seemed a vapid, boring, rich girl who couldn't put two thoughts together…or could she? Winter actually says some of the funniest things in this novel. That part did have me laughing out loud. When she was faking her stupidity, she would often use words incorrectly, which is hilarious! But it also frustrated me that she had to act so dumb when she is clearly not.
When I first met Bennet, he appeared the typical Yale man: stuffy, nerdy, and haughty…or was he? Turns out neither of the characters is who they seem to be at the beginning of this book. One is a spy for the American Patriots, and the other a spy for England…or is he?! So much intrigue. I think this may be where my issue with this novel comes in to play. The main characters never really could tell each other the truth about who they were, so how could they really fall in love? How could that part of the story really work? Bennet is smart enough to know the whole time that Winter is hiding her true self from him. The moments in the story when she would show Bennet little bits and pieces of who she really is are the best parts of this book.
There is one moment in the book that I just could not buy, and this takes place near the 50% mark on pages 172-174. Archie, Bennet's brother, sees Winter in a section of town where prostitutes work and the saloons sell their liquor. It is named Holy Ground because it used to be where the church was before it was burned down four years previously. This is a place Winter should not be, but because of someone evil, she ends up getting hurt and tossed into Holy Ground like a piece of trash. Winter is clearly hurt and in need of help. Archie does eventually take her home, and while in the carriage together he realizes that Winter is more than she seems. A little later down the page, Archie goes home and sees Bennet. Instead of telling Bennet that he just rescued Winter from harm, he tells Bennet that he has been wrong about Winter, that Bennet is correct when he tells everyone that Winter is actually smart. What?! There is no mention of her being wounded. There is no mention that Archie found her in Holy Ground. Nothing. Just that Bennet has been right all along about Winter. This part just does not make sense. If I had seen my brother's love interest in a disreputable part of town with a head wound, I would have said to my brother something along the lines of, "You better go see your girlfriend, she is hurt badly and I found her in the wrong part of town." This one particular part really threw me for a loop. I have read many of Ms. White's novels and have never come upon an unrealistic moment like this before.
I do love the prayers the characters say in this novel. It is clear Winter loves God deeply. She has genuine faith and turns to God often, and this eventually leads Bennet to do the same! I really love that aspect of the novel. And, the characters make excellent statements that really struck me as I was reading. One of my favorite quotes comes from Winter: "She must find a way to be like Viney. 'Twasn't enough to keep from being found guilty in the eyes of man. She must focus on remaining innocent before the Lord, no matter how others may judge her." This is a great quote and a great reminder. I must walk my path with God constantly in mind. I must walk my path so that I am innocent before God. This reminds me of Proverbs 29:25: "The fear of man lays a snare, but whoever trusts in the Lord is safe."
If you enjoy the American Revolutionary time period, and you like spy novels, then I highly recommend this novel. The action is solid. The characters are very well written. And, the weaving of actual historical people and places and events with Ms. White's fictional world is seamless. I do feel this novel is a solid 4 STARS out of 5.
---
A Heart's Revolution (2011; re-released in 2018) by Roseanna M. White is a fabulous stand-alone novel. This novel comes in all forms including eBook and is 313 pages in length. With a full-time job and a very precocious five-year-old at home, this story took me three days to read. I purchased this novel from the author to read and review. The opinions expressed in this review are my own. I give A Heart's Revolution 5 STARS. This story is a Christian Historical Romance.
I absolutely enjoyed every second of this story. A Heart's Revolution is a perfect Historical novel and proves again what a stellar writer and storyteller Roseanna M. White truly is. I was hooked from page one, and could not put this book down. I may have even sneaked reading pages during work today! LOL!
This story is unique in that I hated the hero right from the start. He's smug and detached and awful. I wanted to smack him on several occasions. I cannot remember reading a book hoping the leading lady would choose someone else. But, that's how I felt through 3/4 of this book. Emerson's best quality is that he realizes he's a total fool. At first, Emerson does not seem so contrite; it's more like he goes after Lark because of wounded pride. But, as he sees Lark through others' eyes, and he finally witnesses her true personality, he comes to understand just what it means to be repentant. And then he makes good, solid change. Believable change. Emerson didn't get perfect overnight. But he knew the steps he needed to take to fix the mess he made, and he knew those steps began by going to God. As the story was nearing its end, I found myself rooting for Emerson to succeed in his redemption quest. And, by the end, I felt he had become a true hero.
Lark is a wonderful heroine. At first, she tries to be what she believes society and Emerson want her to be. She is meek and mild, and she doesn't ever show her true colors in public. But, over the course of the story, she grows into an amazing woman. She learns to express her opinions, she learns to stand her ground, and she learns to relax. The biggest stumbling block Lark faces in this story is herself. She is so caught up in her outer appearance that she loses sight of who she is. She doubts herself, her looks, and her worth. But, Lark discovers that God sets her worth, not man. Lark blossoms once she realizes this fact. She comes to see her true self-worth and beauty and begins to be the woman God always wanted her to be. This is an exceptional reminder for me, and for most every woman I have ever met. Our value is not set by the standards of this world. Our value is set by God. So most of us don't look like the women on the covers of magazines. Big deal! The creator of the known and unknown universes intricately formed us. He knows us by name, and He calls us His own. If that doesn't prove our true worth, I don't know what does!
There is so much more that I want to say about this book! The secondary characters are wonderful. Wiley, Sena and her family, and the Calverts are some of my favorite characters. The depth and complexity of the secondary characters are as good as the main characters. And, the history — it is so clear Ms. White put in a ton of study and research for this book. I learned so much! I had no idea about life right after America became its own nation. I always assumed it was a rather peaceful, happy time, but that was not necessarily the case. I did not know about the discord between the American Revolutionists and the few Tories who chose to continue to make their home in America even after the War had been decided in America's favor. It's intriguing, and sad, to me that since its beginnings, America has resorted to a mob mentality when the majority doesn't get its way, or when its popular values are questioned by others. There are a couple of tense moments displayed in this book, and the injustice of those moments really made me shake my head. On a more positive note, I really loved witnessing through Lark Washington's official resignation from his military commission. What struck me was how eloquent he was. No one talks like him anymore. Such excellent word choice and elocution!
A Heart's Revolution is an excellent story. If you are looking for a well researched, highly engaging story that is a fast-paced page-turner, then you need to purchase this book. I highly, highly recommend it.