Kristi Ann Hunter Book Reviews
Kristi Ann Hunter is an excellent story teller. She debuted her first novel in 2015, so she is a pretty new novelist to mainstream markets. I am so glad I found her books. They are amazing page turners that take me about two days to read. You just can't put them down!!! Her novels are so fun, and sometimes you just need a fun, easy, completely enjoyable read. Hunter's books are full of well-written characters who endear themselves to your heart, and adventure that force pages to fly by. I highly recommend all of Ms. Hunter's novels.
Check out her author page at Goodreads: https://www.goodreads.com/KristiAnnHunter. Or, check out her website at www.kristiannhunter.com.
---
Haven Manor Series
A Search for Refuge (2018) by Kristi Ann Hunter is the first story in her soon-to-release series, Haven Manor. This novella was just released this past Tuesday, March 6, 2018, by Bethany House Publishers. This novella comes in eBook format, and is 129 pages in length. With a full-time job and a very busy five-year old at home, this story took me two days to devour! Currently, this novella is free through Amazon, Barnes and Noble, and CBD. I downloaded a copy to read and review from Amazon on March 6, 2018. The opinions expressed in this review are my own. I give A Search for Refuge 5 STARS. This story is a Christian Historical Romance.
I love Kristi Ann Hunter's novels. She is such a masterful storyteller. She creates wonderful worlds, engaging and deep characters, and her sense of wit and humor is excellent. I will read anything she writes. So, when I heard A Search for Refuge had released, I had to make room in my review schedule to read this book immediately! Boy, am I glad I did. I love Margaretta and Nash's story, and I cannot wait for the next book, A Defense of Honor, to release in June! I fear it's going to be a long wait.
Nash is an excellently written hero, and my favorite part of the book. He is handsome, of course, but he is way more than that. He is kind and compassionate, and he cares so deeply that tragedies hurt him a little more than the average fellow. Nash has a big heart for the people in his community, especially for Mrs. Lancaster, an elderly widow (who is a total hoot, and I can't wait to see her again in A Defense of Honor), but he holds everyone at arm's length. A few years prior to the start of this story, Nash lost his sister. The pain he felt, and the pain he witnessed from his sister's husband, made Nash vow to keep people out. He would not allow a deep connection with anyone, especially a woman he could potentially fall in love with. I appreciate this very realistic aspect to Nash's character. I get this need to protect one's self from pain. Why make such a deep connection with someone when it's quite possible to lose them? How could anyone ever get over the hurt and the pain of such deep loss?
Ten years ago, I was with a very close friend on the day she was told her son had been killed in a horrific train crash. The conductor of the train had been on his cell phone and didn't see the yellow light and two red lights telling him another train had right of way. It was a terrible crash that took the lives of many innocent passengers, and it all could have been prevented if one person was paying attention.
I will never forget the empty look, the tears streaming down my friend's face, the absolute terror she exuded as the cop relayed that she would never see her child ever again. I remember thinking that 18 years is not enough time to have with your child. And, I remember a deep sense of fear settling in the pit of my stomach. How could I ever put myself into a position where one day a cop could tell me a loved one has been lost? That day, I felt the walls to my heart close up. I was determined to not let anyone in. I was going to "protect" myself if it was the last thing I did.
I will not lie. My friend will never be the same, and for the first two years after her son's death, I worried for her and her husband's health. Things were not good. BUT, time passed. My friend and her husband will miss their child every day. How could they not? But life keeps going. Today, my friend smiles, she laughs, and she loves. She has three grand babies who bring her such joy that she lights up when she talks about them. She found purpose in the foundation she and her husband created as a way to teach people the importance of cellphone-free driving. My friend survived by allowing her heart to hurt, then heal, then thrive.
I have learned a great lesson from my friend. There is an order to grief. Tragedies happen and they are awful. People have to allow time to grieve and hurt. But, they also have to allow time to heal so they can get back to living. People cannot stay in the grief-and-hurt-and-fear mode. If they do, they will live paralyzed lives. They will be like Nash — lonely and separate. This is not a lifestyle God desires for us to have. God wants us to love and live and experience and grow. Over the course of A Search for Refuge, Nash realizes that a life lived without love is not a life being lived, it's a life being wasted. After making this revelation, Nash smiles to himself and feels free. He is free from the fear of potentially losing someone, and allows joy into his life. He finally claims the life God wants him to live. And, this reminder — that I need to live the life God gave me with joy and love and hugs and kisses — is the absolute best part of the book.
I did learn from my friend's example. I opened my heart to life. I did fall for my husband, and we have a wonderful blessing in our lives — our beautiful daughter, Miss Isabella. I cannot imagine my life without my husband and daughter. Yes, I could lose them to an accident or sickness, but to not have had them in my life would have been even more of a loss. I am choosing God's path for me rather than the fear that I experienced that day ten years ago when my friend lost her child. This choice to follow God's path, and not my fear, has made my life more meaningful, and I feel a joy that is beyond anything I could have imagined for myself. God is SO good!
A Search for Refuge is a fantastic novella, and I cannot recommend it enough. This brief story lays an excellent foundation for what I am sure will be a phenomenal series. If you are looking for a fast-paced, highly engaging, romantic story that includes a timely and wise message, then I encourage you to visit Amazon, Barnes and Noble, or Christian Book today and purchase a free copy of this book. You will not be disappointed that you did!
---
A Defense of Honor (2018) by Kristi Ann Hunter is the first book in her Haven Manor series. This book comes in all forms including eBook, and is 376 pages in length. With a full-time job and a very busy six-year old at home, this novel took me two days to read. I received a copy of this book in paperback form from the author via her publisher, Bethany House. In no way has this influenced my opinion of the story. All opinions expressed in this review are my own. I give A Defense of Honor 5 STARS. This novel is a Christian Historical Romance set in England in 1816.
Kristi Ann Hunter is one of my most favorite Christian authors. I adore her stories. Each one is so good and so unique, I think to myself, "How can she possibly do a better story than this?!" But each story gets better and better. And, A Defense of Honor may be my new favorite.
Ruth is one of my most favorite books in the Bible. I love Ruth's heart. Ruth shows love the way Jesus shows love — completely and without strings attached. And, she knows how to trust God absolutely. Kit is very much a Ruth-like character. She loves the people in her care so much. And her sense of doing what is right and just is laudable. Daily, Kit defends and fights for women and children whom the world views as rubbish. Kit is truly doing the Lord's work! But is she really? At one point, Kit realizes that her actions aren't as noble as they seem. Kit is defending and fighting for women and children, but she is doing so with a vengeful heart rather than with a loving one. Kit realizes that her work has led her down a path where she doesn't even talk to God anymore. She is more about making men pay for their crimes than she is about trusting God's will in the lives of the women and children she is saving. Somewhere along the way, Kit lost her Ruth-like heart and is on the wrong path.
Trusting God is a really big theme in A Defense of Honor. While reading, I became so invested in Kit and her noble cause that I didn't even realize that she wasn't trusting God. I was right there with Kit during her freak outs and worry moments. I started stressing about things like finances and food and clothes. When Graham shows Kit that she is actually in the wrong, I was so ready to beat him up. "What are you talking about, Graham!? Kit is wonderful. Leave her alone" is what I wanted to yell at him. But, as he explains to Kit where she is falling short, my mouth gaped in dawning understanding. Oh my word…I stink. I was so invested in Kit because I am Kit. I try so hard to do everything on my own, to take care of everyone on my own, and to fix everything on my own. I go in guns blazing! But where does that get me? In trouble!!! I find I'm backed into a corner with nowhere to go but to God. And this is what Kit realizes. She does have a noble cause. She needs to never stop fighting for the women and children in her care, but she needs to do it with God, not without. I love this message SO much, and I am so grateful I read this book because I clearly needed this reminder.
A Defense of Honor is a really great story, and I highly recommend it. I found it to be highly engaging and fast-paced. The characters are well written and very realistic. And, the messages and themes are timely. If you are looking for an excellently penned Regency novel with substance then A Defense of Honor is definitely the book for you.
---
Hawthorne House Series
A Noble Masquerade (2015) — book 1 in the Hawthorne House series, and Ms. Hunter's debut novel — 5 STARS — this is a clean Christian Historical Romance.
"Her impending spinsterhood must be bothering her more than she realized if a servant was catching her attention in such a way. Of course, he was a very nicely put together servant."
Lady Miranda Hawthorne longs for freedom — freedom away from the rigid falseness of society. Entering her fourth season, she is pretty sure spinsterhood is just around the corner. Lady Miranda pours her heart and soul into the letters she pens to her brother's friend, a Duke who has been absent from society for a remarkably long time. Of course she has NO intention of ever mailing these letters, but her brother's new valet — the handsome Marlow — accidentally mails one! Or is it an accident?! Marlow has a few secrets himself, and Lady Miranda can't help but be captivated by this new employee to Hawthorne House and the mystery that surrounds him.
Oh. My. Goodness! This book is SO good. I thoroughly enjoyed every page. In fact, there were moments I should have been grading papers (I'm a HS English teacher), but I didn't. Instead, I read this amazingly fun book! The main characters, Lady Miranda and Marlow, are very well written and so much fun. I rooted for them as soon as I saw them interact for the first time. The chemistry between them is immediate.
And, as a side note, I love the nod to Christopher Marlowe, the supposed spy for Queen Elizabeth I, and brilliant poet and playwright. It is fun to see how Marlow plays out in this novel. His moments in this book are my favorite. He is a captivating character.
When this book finished, I was genuinely sad and wanted to immediately turn back to page 1 and begin again. But, alas, I really did need to grade those papers! LOL!!!
---
A Lady of Esteem (2015) — book 0.5 in the Hawthorne House series — this is an e-only novella meant to introduce readers to characters in book 1 — 5 STARS — this is a clean Christian Historical Romance.
I read the first two novels in this series before I read this e-novella. This short story is good; a very good introduction to the Hawthorne family. My only issue is that the pacing of the story is great until chapter 15. Everything is progressing well: characters are introduced, action ensues, I am rooting for the characters I want to win the day, and then, all of a sudden, the book speeds up the action and is done. It took me out of the story a little.
It kind of feels like Ms. Hunter was given a chapter limit, was writing the story, got caught up in the action of her story, and then realized she was going to go over her limit, and just ended the story. Everything about this story is good. I just wish the last two chapters didn't feel so immediate, so rushed to get to the happy ending.
---
An Elegant Facade (2016) — book 2 in the Hawthorne House series — 4.5 STARS — this is a clean Christian Historical Romance.
By 30% of this novel read, I was having a bit of a difficult time wanting to read. Honestly, the main character, Lady Georgina Hawthorne, is exceptionally shallow and tedious. She came off as a BIG jerk. And, her "problem" was annoying to me. BUT, that is the beauty of Ms. Hunter's writing. She does such a great job at writing realistic characters that when Lady Georgina stops being a horrible person over time, I grew to appreciate her struggles and could actually see her as a real person. And, I didn't even realize I was liking Lady Georgina. It just sort of snuck up on me!
I did initially take issue with the beginning of the book because Ms. Hunter uses the events from book 1, but shows them through Lady Georgina's point of view. That made the story a little difficult to read. As soon as this book reached the moment where book 1 ends, and the story became only Lady Georgina's story, it became an amazing novel to read. Again, I could not put the book down!  At this point, I could appreciate and love the main characters, Lady Georgina and Colin. They became personable and relatable.
I wish that Ms. Hunter had just began the book at Lady Georgina's story, and left Lady Miranda's story behind in book 1. The writing in this novel is very good, the characters become very well-crafted, and the action and dialogue are very entertaining and enjoyable. I just wish the first part of the book was its own and didn't use book 1 as a backdrop. It is cool to see events through different eyes, but, to me, it didn't really work in this novel.
---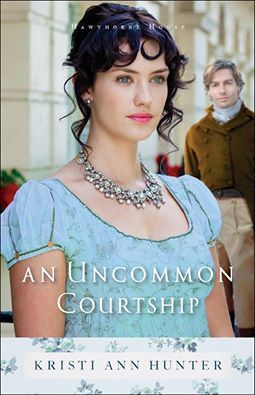 An Uncommon Courtship (2017) — book 3 in the Hawthorne House series — 5 STARS — this is a clean Christian Historical Romance.
When her mother's ill-conceived marriage trap goes awry, Lady Adelaide Bell unwittingly finds herself bound to a stranger who ignores her. Lord Trent Hawthorne, who had grand plans to marry for love, is even less pleased with the match. Can Adelaide and Trent set aside their first impressions before any chance of love is lost?
You cannot read this book and not feel badly for Lady Adelaide. Her mother sets a marriage trap for her. She is just a pawn, the poor thing. When she finds herself married to a man who doesn't want her, your heart breaks a bit for her. None of this is really her fault, yet she is the one who reaps the punishments.
Kristi Ann Hunter is a great storyteller — there is no denying this fact. As with her other novels, the writing is excellent, the characters are so realistic and charming, and the moment the bad guy loses is very satisfying. It is a great story with never a dull moment!
---
An Inconvenient Beauty (2017) is the final novel in Kristi Ann Hunter's Hawthorne House series. This FANTASTIC story comes in all forms including eBook, and is 384 pages in length. With a full-time job and a very busy five-year old, this novel took me five days to read. I give this novel 5+++ STARS. This story is a Christian Historical Romance.
Griffith, Duke of Riverton, likes order, logic, and control, and he naturally applies this rational approach to his search for a bride. He's certain Miss Frederica St. Claire is the perfect wife for him, but while Frederica is strangely elusive, he can't seem to stop running into her stunningly beautiful cousin, Miss Isabella Breckenridge.

Isabella should be enjoying her society debut, but with her family in difficult circumstances, her uncle will only help them if she'll use her beauty to assist him in his political aims. Already uncomfortable with this agreement, the more she comes to know Griffith, the more she wishes to be free of her unfortunate obligation.

Will Griffith and Isabella be able to set aside their pride and face their fears in time to find their own happily-ever-after?
I have this really annoying habit when it comes to the last book in a series: I take a really long time to read them. I still have the last 25 pages of the final Harry Potter novel to read, but I probably won't because I don't want the story to be over. So, if you took note of the fact that An Inconvenient Beauty took me a rather long time to read, it's because I was having a very hard time saying goodbye to the Duke of Riverton and his wonderfully endearing family and friends.
This novel is SO good, I don't actually know where to begin with this review. The characters are fantastic, the settings are dazzling, and the action is non-stop. This novel is a page-turner! Kristi Hunter is a phenomenal storyteller, and I truly cannot wait for what she has in store next. I pray God blesses her with many, many more fabulous story lines. If you are on Facebook this Friday, you might want to check out Kristi's FB page. She is going to reveal her next novel's cover. I have seen it and it is gorgeous!!!
The first aspect that I really love about this story is how well Ms. Hunter captures what it means to be the first-born, Type-A child. As with her previous novels, the characters in this story are excellently and realistically written. I am a first-born child. I think first-born children are inherently created with the need to take on all the responsibilities, take care of all the siblings, and do everything without failing. We always want and hope for (and maybe crave) the approval of those we put into authoritative positions. And, we often are willing to sacrifice our needs and wants if it means we can help out those we love. Reading Griffith and Isabella's story is like reading a first-born child's playbook. Many times while reading this story, I was reminded of moments in my younger years where I took control of situations with my brothers because I thought it was my duty as the oldest sister. This is pretty much how Griffith has lived his whole life. One of the best quotes from very early on in the novel perfectly illustrates Griffith as first-born: "While the limits of human ability prevented Griffith, Duke of Riverton, from being everything to everyone who depended on him for their livelihoods, he's always assumed there was no limit to what he would do for his family" (5). This is spot on for every first-born, myself included, that I have ever known. If we could break though our limits of human ability, we could do more for those we love! To the rest of the world, these first-born tendencies may seem overbearing, but I promise we really only do everything out of love!
The overall message in this novel is superb: seek God, ask for forgiveness, and put all trust in HIM! Many times throughout the story, Griffith and Isabella act. They concoct plans based on ideas they overthink, which results in their plans becoming too much head and not enough heart. And, often, they forget to take their problems and issues to God. Isabella especially puts her trust into her own abilities, and this backs her into a corner. Just when I was starting to wonder if she would ever go to God, she realizes her mistakes and seeks God's forgiveness and peace. I love this reminder! Many times I tend to get so wrapped up in MY plans that I forget to include God. Every time I do this, something in my plan gets really messed up. Then I get frustrated and react incorrectly. Then, in tears, I go to God, ask His forgiveness, and listen for HIS plan. One would think I would have learned my lesson the first, second, or third time, but apparently at 36 I still need this reminder daily. I love that this novel was able to act as another reminder that I need to go to God first and let Him guide my steps. It's truly the only way to find any real peace in this life.
Isabella and Griffith's story is the perfect ending to a truly well-written series. I cannot recommend this novel, and the Hawthorne House series, enough. Read every book in the series if you haven't already. You will not be disappointed that you spent time with this wonderful, eclectic family.