Kristi Ann Hunter Book Reviews
Kristi Ann Hunter is an excellent story teller. She debuted her first novel in 2015, so she is a pretty new novelist to mainstream markets. I am so glad I found her books. They are amazing page turners that take me about two days to read. You just can't put them down!!! Her novels are so fun, and sometimes you just need a fun, easy, completely enjoyable read. Hunter's books are full of well-written characters who endear themselves to your heart, and adventure that force pages to fly by. I highly recommend all of Ms. Hunter's novels.
Check out her author page at Goodreads: https://www.goodreads.com/KristiAnnHunter. Or, check out her website at www.kristiannhunter.com.
---
A Noble Masquerade (2015) — book 1 in the Hawthorne House series, and Ms. Hunter's debut novel — 5 STARS — this is a clean Christian Historical Romance.
"Her impending spinsterhood must be bothering her more than she realized if a servant was catching her attention in such a way. Of course, he was a very nicely put together servant."
Lady Miranda Hawthorne longs for freedom — freedom away from the rigid falseness of society. Entering her fourth season, she is pretty sure spinsterhood is just around the corner. Lady Miranda pours her heart and soul into the letters she pens to her brother's friend, a Duke who has been absent from society for a remarkably long time. Of course she has NO intention of ever mailing these letters, but her brother's new valet — the handsome Marlow — accidentally mails one! Or is it an accident?! Marlow has a few secrets himself, and Lady Miranda can't help but be captivated by this new employee to Hawthorne House and the mystery that surrounds him.
Oh. My. Goodness! This book is SO good. I thoroughly enjoyed every page. In fact, there were moments I should have been grading papers (I'm a HS English teacher), but I didn't. Instead, I read this amazingly fun book! The main characters, Lady Miranda and Marlow, are very well written and so much fun. I rooted for them as soon as I saw them interact for the first time. The chemistry between them is immediate.
And, as a side note, I love the nod to Christopher Marlowe, the supposed spy for Queen Elizabeth I, and brilliant poet and playwright. It is fun to see how Marlow plays out in this novel. His moments in this book are my favorite. He is a captivating character.
When this book finished, I was genuinely sad and wanted to immediately turn back to page 1 and begin again. But, alas, I really did need to grade those papers! LOL!!!
---
A Lady of Esteem (2015) — book 0.5 in the Hawthorne House series — this is an e-only novella meant to introduce readers to characters in book 1 — 5 STARS — this is a clean Christian Historical Romance.
I read the first two novels in this series before I read this e-novella. This short story is good; a very good introduction to the Hawthorne family. My only issue is that the pacing of the story is great until chapter 15. Everything is progressing well: characters are introduced, action ensues, I am rooting for the characters I want to win the day, and then, all of a sudden, the book speeds up the action and is done. It took me out of the story a little.
It kind of feels like Ms. Hunter was given a chapter limit, was writing the story, got caught up in the action of her story, and then realized she was going to go over her limit, and just ended the story. Everything about this story is good. I just wish the last two chapters didn't feel so immediate, so rushed to get to the happy ending.
---
An Elegant Facade (2016) — book 2 in the Hawthorne House series — 4.5 STARS — this is a clean Christian Historical Romance.
By 30% of this novel read, I was having a bit of a difficult time wanting to read. Honestly, the main character, Lady Georgina Hawthorne, is exceptionally shallow and tedious. She came off as a BIG jerk. And, her "problem" was annoying to me. BUT, that is the beauty of Ms. Hunter's writing. She does such a great job at writing realistic characters that when Lady Georgina stops being a horrible person over time, I grew to appreciate her struggles and could actually see her as a real person. And, I didn't even realize I was liking Lady Georgina. It just sort of snuck up on me!
I did initially take issue with the beginning of the book because Ms. Hunter uses the events from book 1, but shows them through Lady Georgina's point of view. That made the story a little difficult to read. As soon as this book reached the moment where book 1 ends, and the story became only Lady Georgina's story, it became an amazing novel to read. Again, I could not put the book down!  At this point, I could appreciate and love the main characters, Lady Georgina and Colin. They became personable and relatable.
I wish that Ms. Hunter had just began the book at Lady Georgina's story, and left Lady Miranda's story behind in book 1. The writing in this novel is very good, the characters become very well-crafted, and the action and dialogue are very entertaining and enjoyable. I just wish the first part of the book was its own and didn't use book 1 as a backdrop. It is cool to see events through different eyes, but, to me, it didn't really work in this novel.
---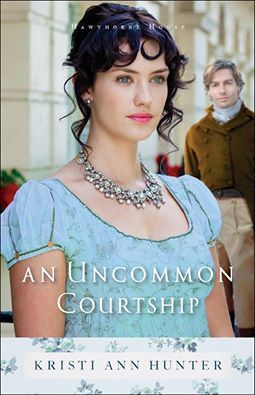 An Uncommon Courtship (2017) — book 3 in the Hawthorne House series — 5 STARS — this is a clean Christian Historical Romance.
When her mother's ill-conceived marriage trap goes awry, Lady Adelaide Bell unwittingly finds herself bound to a stranger who ignores her. Lord Trent Hawthorne, who had grand plans to marry for love, is even less pleased with the match. Can Adelaide and Trent set aside their first impressions before any chance of love is lost?
You cannot read this book and not feel badly for Lady Adelaide. Her mother sets a marriage trap for her. She is just a pawn, the poor thing. When she finds herself married to a man who doesn't want her, your heart breaks a bit for her. None of this is really her fault, yet she is the one who reaps the punishments.
Kristi Ann Hunter is a great storyteller — there is no denying this fact. As with her other novels, the writing is excellent, the characters are so realistic and charming, and the moment the bad guy loses is very satisfying. It is a great story with never a dull moment!
---
Coming soon to a bookstore near you!!!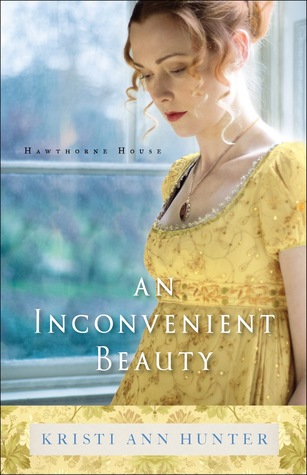 Due out September 5, 2017
The Duke of Riverton has chosen his future wife with the same logic he uses to make every decision. However, his perfect bride eludes his suit, while the beautiful Isabella Berkeley seems to be everywhere. When the time comes, will Griffith and Isabella be able to set aside their pride and initial notions to embrace their very own happily-ever-after?
Review to come as soon as the book is released! I cannot wait!!!