Delicate Balance
The Blair Brothers #1
by: Brooke St. James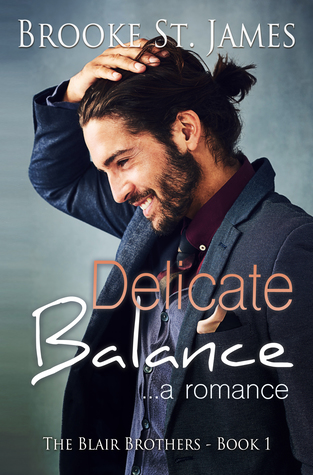 "Ben had the hostesses put sixteen and fourteen together, so it's a six-top now. He said he didn't care which one of us took it." Katelyn blinked at me, as if waiting for some kind of answer, but I wasn't entirely sure what she had just said.
Have you ever worked in a restaurant? I have. And, I hated every second of it. I lasted three months. I was OK taking orders. I was OK serving food. I was OK when people wanted orders made special. I was even OK when hostesses put massive amounts of tables together and parties came in with like 30 people. But I was not OK when people treated me like I was their slave. And, I really hated when I worked my butt off and got mere change as a tip. I actually learned a lot about people in the three months I worked in a restaurant. It was a very eye-opening experience.
Now, about this book! One of my most favorite tropes in all of literature is when the regular gal gets the "it" guy. I love these stories so much. When I read the summary for this book, I knew I had to read it ASAP. Now, I just need time to read!!! I'm feeling like my TBR mountain has taken over my life. LOL!
---
NOW IT IS YOUR TURN!
GRAB THE BOOK YOU ARE CURRENTLY READING, OPEN TO CHAPTER ONE, AND POST THE FIRST SENTENCE (OR SECOND SENTENCE) IN THE COMMENTS BELOW.
THEN HEAD ON OVER TO HOARDING BOOKS TO SEE ALL OF THE FLF PAGES THIS WEEK (JUST CLICK ON THE FLF BUTTON BELOW).