Welcome to Memorable Monday! The purpose of Memorable Monday is to showcase an influential book read in the past that still sticks with you today. This fun Monday morning post is hosted by the lovely Becca at The Becca Files.
---
This week, I am featuring:
The Book Thief
by: Markus Zusak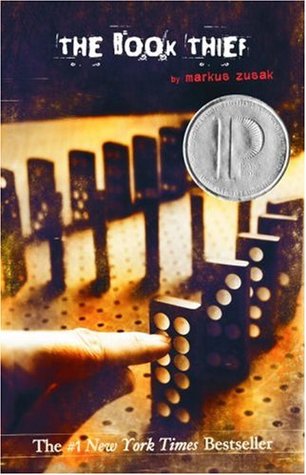 The Book Thief by Markus Zusak is one of the best books that has ever been written. It is a novel I teach to my English 9 Honors kids, and let me tell you, it leaves a mark on my students. The prose is beautiful. The characters are endearing and memorable. And, the subject matter is unforgettable. If you have not read this book, I highly recommend that you do so. It truly is a book that needs to be read. And, while there is a movie, the book is without a doubt a million times better than the movie. Just read the book!
About the Book
It is 1939. Nazi Germany. The country is holding its breath. Death has never been busier, and will be busier still.

By her brother's graveside, Liesel's life is changed when she picks up a single object, partially hidden in the snow. It is The Gravedigger's Handbook, left behind there by accident, and it is her first act of book thievery. So begins a love affair with books and words, as Liesel, with the help of her accordian-playing foster father, learns to read. Soon she is stealing books from Nazi book-burnings, the mayor's wife's library, wherever there are books to be found.

But these are dangerous times. When Liesel's foster family hides a Jew in their basement, Liesel's world is both opened up, and closed down.

In superbly crafted writing that burns with intensity, award-winning author Markus Zusak has given us one of the most enduring stories of our time.
---
NOW IT'S YOUR TURN!
Share a book you've read in the past and explain briefly why it's so memorable to you in the comments below.
If you would like to join Memorable Mondays, check out Becca's blog site by clicking here. Scroll to a Memorable Monday post for info.