Welcome to Memorable Monday! The purpose of Memorable Monday is to showcase an influential book read in the past that still sticks with you today. This fun Monday morning post is hosted by the lovely Becca at The Becca Files.
---
This week, I am featuring:
A Lady at Willowgrove Hall (Whispers on the Moors #3)
by Sarah E. Ladd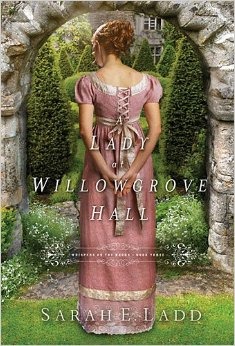 I loved A Lady at Willowgrove Hall. Personally, I think it is the best of the three books in this series. The premise for this book is all about secrets, and how secrets left hidden fester, which is something I think many of us can relate to — that sense of guilt and pressure and fear that can overwhelm and suffocate us all to keep something hidden. It is really not worth it!
There is SO much internal conflict going on in this book that the reader cannot help but feel deeply for Nathaniel and Cecily. It's heart-rending! Many times, I wanted so badly to fix everything for them. The characters in this book, Nathaniel and Cecily, are so well-written and so realistic. How they deal with their internal struggles is so real to life.
The writing for this novel is superb. The imagery is flawless. It was like I was inside the story walking the moors with Cecily, and walking through the halls of Willowgrove. I highly recommend this series, and absolutely recommend this novel!
About the Book
Her secret cloaks her in isolation and loneliness. His secret traps him in a life that is not his own.

Darbury, England, 1819

Cecily Faire carries the shame of her past wherever she treads, knowing one slip of the tongue could expose her disgrace. But soon after becoming a lady's companion at Willowgrove Hall, Cecily finds herself face-to-face with a man well-acquainted with the past she's desperately hidden for years.

Nathaniel Stanton has a secret of his own—one that has haunted him for years and tied him to his father's position as steward of Willowgrove Hall. To protect his family, Nathaniel dares not breathe a word of the truth. But as long as the shadow looms over him, he'll never be free to find his own way in the world. He'll never be free to fall in love.

When the secrets swirling within Willowgrove Hall come to light, Cecily and Nathaniel must confront a painful choice: Will they continue running from the past . . . or will they stand together and fight for a future without the suffocating weight of secrets long kept?
---
NOW IT'S YOUR TURN!
Share a book you've read in the past and explain briefly why it's so memorable to you in the comments below.
If you would like to join Memorable Mondays, check out Becca's blog site by clicking here. Scroll to a Memorable Monday post for info.