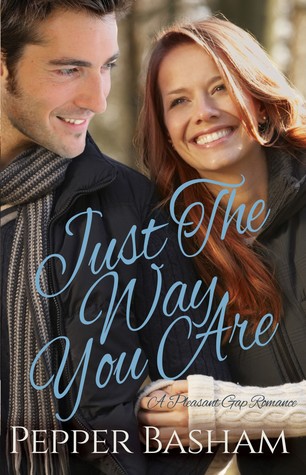 Just the Way You Are (2017) by Pepper Basham is the first book in her Pleasant Gap Romance series. This book comes in all forms including eBook, and is 308 pages in length. With a full-time job and a very busy six-year old at home, this book took me two days to read. I purchased this novel from Amazon on October 21, 2018 to review. The opinions expressed in this review are my own. I give this book 5 STARS. Just the Way You Are is a Contemporary Christian Romance.
About the Book
Single mom, Eisley Barrett, prefers to keep romance safely housed within a centuries-old mystery, but when she travels to England to unearth the secret, an actor with a sordid past offers her reluctant heart a very different type of discovery.

Wes Harrison has a past he's ashamed to confess. Suspicious and cynical, he's managed to avoid romantic entanglements since a tragedy upended his career and life, that is until American Eisley Barrett comes along. Her authenticity and kindness upend his bitter assumptions and send his heart into unscripted territory.

When his past threatens to ruin a second chance at love, can some Appalachian matchmaking and letters from the grave salvage their unexpected romance?
My Thoughts
So you know how you binge-watch TV series? Yeah, I just binge-read the Pleasant Gap Romance series by Pepper Basham. LOL!
I recently read and LOVED When You Look at Me, book #2 in the Pleasant Gap Romance series. WYLAM is so amazing that I put my entire review schedule on hold so I could devour book #1 in this series, Just the Way You Are, because I could not bear to part with the characters from Pleasant Gap. I am officially Pepper Basham's #1 fan because JTWYA and WYLAM are fabulous stories. The Pleasant Gap Romance series is without a doubt binge-worthy and should be read by all immediately. Now, I need a 3rd book on Sophie!!! Is that something I could look forward to Pepper?! Maybe?! Hopefully?!
I love the premise to Just the Way You Are — a regular girl meets a handsome, popular, out-of-her-league boy. I wholeheartedly enjoy this premise because the girl really is the one who is out-of-his-league, but the guy doesn't realize it at first. I love watching as the hero of these stories figures out just how wonderful the girl really is. And, being totally honest, I really enjoy the satisfaction I feel when the real girl turns out to be "the one" for the guy who can get any girl he wants. There is something so special about being that one unique person. This premise is so romantic and sweet to me, and Pepper Basham does this premise good! This may be one of the most romantic and sweet Contemporary Christian novels I've ever read.
The best part of this book, for me, is the theme of forgiveness that is weaved throughout the entire narrative. What I really appreciate is the discussion about how hard it is to forgive ourselves and let go of the negative ticker-tape feed in our heads. I generally do not struggle with forgiving others, but forgiving myself is really hard. I will sit and stew over my mistakes and blunders. I will engage in debilitating self doubt, worry, and self-recrimination. I wonder things like, "How could God EVER forgive me?" or "How can I ever measure up again?" I logically know all of this is not good for me, but sometimes it is really hard for my heart to get on board. My most favorite moment came when Eisley speaks some real truth to Wes who is still struggling to forgive himself for mistakes and choices he made two years prior. Eisley confidently proclaims, "God loves you just the way you are. It's amazing and humbling, and oh so wonderful for those of us who fall flat on our faces most days … and He forgives completely." What a SMART woman! Eisley totally understands Psalm 103:12 — "As far as east is from the west, so far does [God] remove our transgressions from us." What a great reminder for me today. I need to believe this truth like Eisley does!
There is so much more I could discuss about this book, but I'm so in gush-mode that I know I would spoil something accidentally. Suffice to say, the plot is wonderful — highly engaging and thoroughly entertaining. Some of Eisley's words and actions had me laughing so hard I cried a little. The characters are excellent. Eisley is strong, intelligent, unique, and so good. Wes is swoonalicious, loyal, and determined to be the man God and Eilsey need him to be. And the Jenkins family is AWESOME. They're big, loud, tough, and so loving. And, the romance in this book is perfect. It never goes too far, but definitely leaves the reader satisfied. Overall, I adore Just the Way You Are. I cannot recommend this book enough. Get this book and When You Look at Me today — I know you will love every minute spent in Pleasant Gap!