Legacy of Mercy (Waves of Mercy #2)
by: Lynn Austin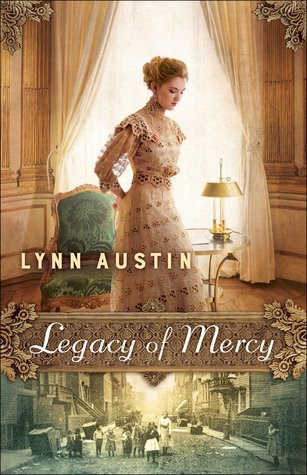 Anna

Chicago, Illinois

1897

I am still in bed, languishing in that lovely state between dreaming and wakefulness, when the note arrives.
So, that cover! Isn't is gorgeous?!
The cover alone makes me want to dive into this book immediately, which is exactly what I'm going to do as soon as I finish this post. I adore everything about this cover — the color scheme, the model, the picture included at the bottom. It's a breathtaking cover.
I met Lynn Austin at the Fiction Readers Summit last May. Trisha from Joy of Reading and I got to have lunch with Lynn and Jocelyn Green. It was surreal and amazing and intimidating all at once. Both Jocelyn and Lynn told us such amazing stories about all kinds of topics. When lunch was over, I felt like I had made some real friendships! Now, when I pick up a book by Lynn or Jocelyn I feel like I'm part of their teams, and really feel the drive to make others aware of their fabulous stories and writing talents. I very much look forward to my time with Legacy of Mercy!
---
NOW IT IS YOUR TURN! GRAB THE BOOK YOU ARE CURRENTLY READING, OPEN TO CHAPTER ONE, AND POST THE FIRST SENTENCE (OR SECOND SENTENCE) IN THE COMMENTS BELOW. THEN HEAD ON OVER TO HOARDING BOOKS TO SEE ALL OF THE FLF PAGES THIS WEEK (JUST CLICK ON THE FLF BUTTON BELOW).