Welcome to this week's edition of #FirstLineFridays! This week, in honor of fathers everywhere, our theme is fathers, grandfathers, uncles, and/or mentors.
Happy Father's Day to dads of all kinds!
---
The Lovely Bones
by: Alice Sebold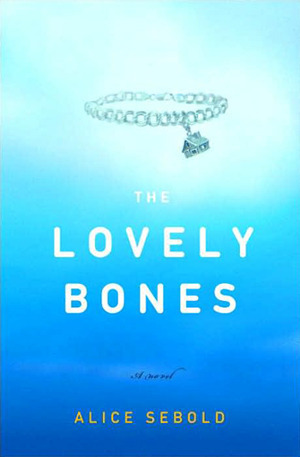 My name was Salmon, like the fish; first name Susie.
The Lovely Bones is one of the best books that has ever been written, in my humble opinion. I teach this novel to my Honors 9 English students, and it is typically a favorite and most memorable of the books they read all year.
I will let you know upfront that this book deals with a terrible, horrendous murder of a teenage girl in the 1970s, but that is NOT the focus of the story. This book is about a family dealing with grief. It is about a father — an amazing father — so grieved by the loss of his child that he becomes like Captain Ahab searching for his white whale. It is about siblings who have to deal with and grow up after a beloved sister has been taken from them. It is about a mother in great mourning. It is about how families can become stronger after grief.
Interesting side note, The Lovely Bones was written when Sebold was a young woman in college. Something excruciatingly awful happened to her after a class one night when she was walking back to her dorm room. This book was her way of dealing and healing after her traumatic experience.
I know that this is not the typical book I showcase on Fridays, but it definitely adheres to this week's theme — fathers. Jack Salmon is one of the most loyal and loving fathers I've seen in literature. He is like an Atticus Finch. Of all the characters in this book, Jack is my favorite. He embodies what a father should be — a provider who loves, cares, laughs, and tries so hard to protect. After he loses his child, he does become manic. I can't imagine losing my child and I'm pretty sure I would be a wreck just like Jack. But, Jack does pull it together for his family in the end, and I think that is what matters most. When he needs to be the strongest for his family, he becomes the man they need.
---
NOW IT IS YOUR TURN! GRAB THE BOOK YOU ARE CURRENTLY READING, OPEN TO CHAPTER ONE, AND POST THE FIRST SENTENCE (OR SECOND SENTENCE) IN THE COMMENTS BELOW. THEN HEAD ON OVER TO HOARDING BOOKS TO SEE ALL OF THE FLF PAGES THIS WEEK (JUST CLICK ON THE FLF BUTTON BELOW).