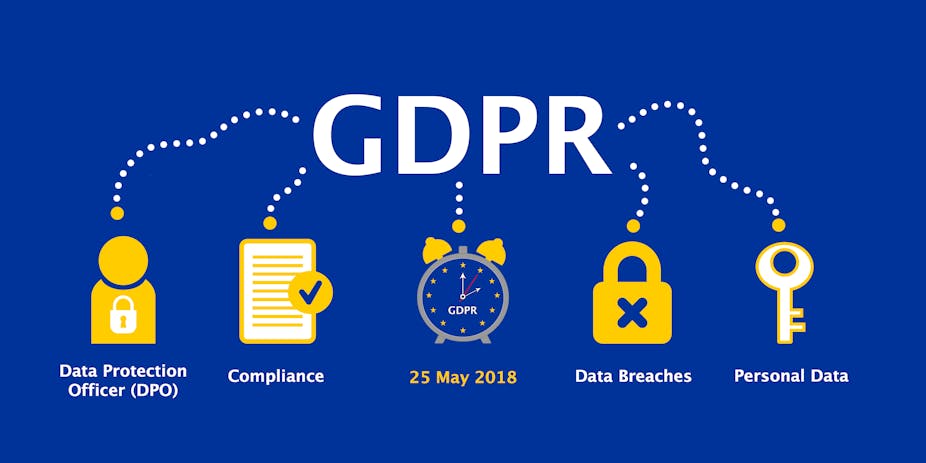 GDPR* is the new and improved data protection directive that the EU will enforce beginning May 25, 2018.
In accordance with GDPR, I need to let all of my EU followers/visitors know what I do with their collected data. And, this is good to know for all my other followers and visitors as well.
What do I collect?
If you follow my blog, I collect your email address.
If you follow a particular blog post that includes a giveaway that I am hosting as The Christian Fiction Girl, I use Rafflecopter and collect your email address in case you win so I can contact you to let you know of your winning status. Please click HERE for my full explanation of Disclosures and Policies pertaining to my giveaways.
If you win one of my giveaways and are located in the United States, then I contact you via the email address you have supplied and I ask for a U.S. mailing address where I can send your prize. Again, click HERE for my Disclosures and Policies information.
When you subscribe to my blog, you will receive notifications about recent blog posts, giveaways, book tours, and other book-review related items.
You can unsubscribe from my blog at any time. While I truly appreciate your participation and support of my blog, I understand that sometimes things and change. If you no longer wish to subscribe to my blog, simply click on the unsubscribe button, or on the unsubscribe link at the bottom of the emails I send out.
What do I do with your information?
I use your email address to inform you of any giveaway items you may have won.
I send out an email notice of my latest blog posting.
That's it! I NEVER sell your information anywhere, anytime, or for any purpose.
To all my blog followers, whether you are part of the EU or USA or anywhere else, your privacy matters to me. I will never knowingly do anything to harm you or your personal data ever. My sole goal with this blog is to spread the word about God's love and Truth, Christian fiction, Christian authors, and Christian publishers.
*If you click on the GDPR link, it will take you to a helpful article called "General Data Protection Regulation (GDPR) requirements, deadlines, and facts" by Michael Nadeau. It helped me understand a little better what GDPR is.