Welcome to this week's edition of #FirstLineFridays! This week, in honor of Mother's Day, our theme is mothers, grandmothers, aunts, and/or mentors.
Little Women
by: Louisa May Alcott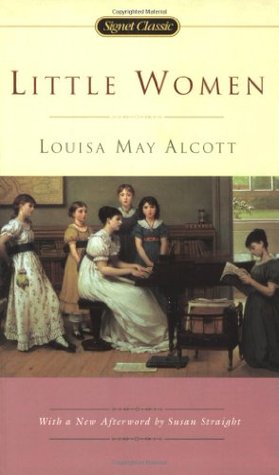 Chapter 1: Playing Pilgrims

"Christmas won't be Christmas without any presents," grumbled Jo, lying on the rug.

"It's so dreadful to be poor!" sighed Meg, looking down at her old dress.

"I don't think it is fair for some girls to have plenty of pretty things, and other girls nothing at all, added little Amy, with an injured sniff.

"We've got Father and Mother and each other," said Beth contentedly from her corner.
I adored Little Women when I was growing up. I read it many times, plus I watched every film and TV version ever created. I love how the sisters interact. I always wanted a sister to share things with — dreams, clothes, make-up, advice, etc., but I got three brothers instead. LOL!
When I think about great literary parents, I think of Atticus Finch in To Kill a Mockingbird and Marmee March in Little Women. When I think about what it means to be a good mother, I think about Marmee and how she is always there for her girls.
To all the moms, grandmoms, and female mentors out there, I want to wish you a very happy Mother's Day!
---
NOW IT IS YOUR TURN! GRAB THE BOOK YOU ARE CURRENTLY READING, OPEN TO CHAPTER ONE, AND POST THE FIRST SENTENCE (OR SECOND SENTENCE) IN THE COMMENTS BELOW. THEN HEAD ON OVER TO HOARDING BOOKS TO SEE ALL OF THE FLF PAGES THIS WEEK (JUST CLICK ON THE FLF BUTTON BELOW).