This week, our theme is "in like a lion, out like a lamb."
A Most Noble Heir
by: Susan Anne Mason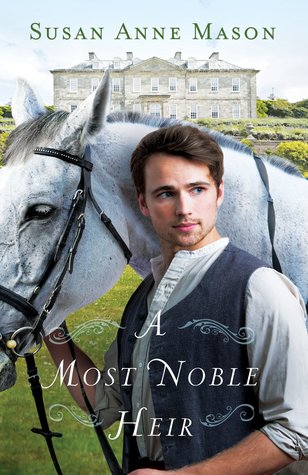 Derbyshire, England

March 1884

Nolan Price scanned the fields of newly budding greenery that stretched as far as he could see and slowly inhaled the scent of grass, soil, and freshly spread manure. Warmth curled through his chest with a feeling of such intense satisfaction that he wished he could ring the village bell to let everyone know of his joy.
A Most Noble Heir is an engaging page-turner that I highly recommend if you are looking for a good story to escape into. The reason I chose this book to showcase this week is because of Edward, Earl of Stainsby (Nolan's father). At the beginning of this book, Edward is lion. He is mean, cold, and gruff. He often roars orders at his servants, and expects all to bend to his will. He reminds me of Beast from Beauty and the Beast. But, by the end of the story, Edward transforms into a lamb. Edward's story is actually my favorite part of A Most Noble Heir!
Check back tomorrow for my full review of A Most Noble Heir. If my review isn't enough to tempt you back, I will have news regarding TWO giveaways for this book. LOL!
I hope you have an excellent Friday, and a restful weekend!
---
Now it is your turn! Grab the book you are currently reading, open to chapter one, and post the first sentence (or second sentence) in the comments below. Then head on over to Hoarding Books to see all of the FLF pages this week (just click on the FLF button below).