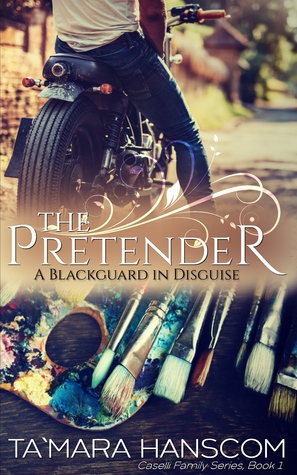 The Pretender (2010) by Ta'Mara Hanscom is the first novel in the Caselli Family series. This book comes in all forms including eBook, and is 350 pages in length. With a full-time job and a five-year old, this novel took me three days to read. I received a free copy of The Pretender through the Litfuse Publicity Group. This has not influenced my opinions in this review. All opinions expressed in this post are my own. I give this novel 2 STARS. This story is a Christian Historical Romance set in South Dakota in 1975.
About the Book
Set in South Dakota in 1975, where eighteen-year-olds could order 3.2 beer in a bar, and loaded guns were kept under the counter. Frankie Valli sang "My Eyes Adored You," and American soldiers returning from Vietnam struggled with their new reality. It's within this tumultuous season of American history that Tillie Caselli meets Noah Hansen, and they are never the same again. Their lives were mysteriously intertwined — and had been for many years — yet they had no idea. From the moment they met, Tillie and Noah wanted to spend the rest of their lives together, but a deliberate omission will keep them apart — and that same omission will be responsible for the escape of a murderer, and a bride's deception.
About the Author
Born and raised in South Dakota, Ta'Mara loves to write about the Great Plains and the beauty and people of Italia. While her husband and children manage their two pizza ristoranti, Ta'Mara works full time on The Caselli Family series, and ministers to women. It is Ta'Mara's prayer that as the readers explore the truths in these volumes, they will come away with a new perspective on love, forgiveness, obedience, and God's plan for marriage. Find out more about Ta'Mara at https://www.tamarahanscombooks.com.
My Thoughts
After having seen the cover for this novel, and reading the description, I was very excited to become part of the Litfuse group reviewing this novel. It sounds like a really great story: a couple meets and their lives are forever changed…how like Romeo and Juliet or This is Us! One of my favorite moments in any novel or classic film is the moment the boy and girl see each other for the first time. When done right, those moments melt my heart. I admit that when I began this book, I really believed I was going to get heart-stopping, engaging moments. I thought I was going to get a really good Christian romance. I am sorry to say, that is not what I got with this book.
The description of this book is a bit misleading. Tillie, or Angel as her family has nicknamed her, is a 17-year-old high school senior. She comes from a very close Italian family, and she is a very good girl. She works hard, gets good grades, loves God with all that she is, and is an amazingly talented artist. These are all excellent qualities in a person. As far as the characters go, Tillie is the most realistically written. She has some real naive moments, but that is ok because of her age. I teach AP Lit (12th grade) and English 9 Honors, so I am surrounded by teenagers all day long. I know teens! My brightest and best students who seem the most mature on Monday, still do naively dumb things on Tuesday and remind me they are just kids. Tillie could easily be a student in my AP Lit course!
Noah is the love interest in this story. Noah is 23 years old. He is a Vietnam Vet who is really struggling with a drug and alcohol addiction at the start of this story. My father is a Vietnam Vet, so I am super particular about how their stories get told. America treated our Vietnam Vets abhorrently. I get real prickly when an author or a director stereotypically shows a Vietnam Vet as a drunk (or drugged out) loser. I hate it! And, at the start of this story, Noah is a drugged out, drunk loser going nowhere fast. His hangout is the local bar, he surrounds himself with questionable friends, and his current girlfriend is a drug dealer and alcoholic. Noah is a total caricature, and this is exceptionally disappointing to me.
My number one issue with this book is the actual premise. Tille and Noah meet in a bar and INSTANTLY fall in love. He is totally drunk and stupid, and she is only there to collect her two friends who sneaked in to get drunk. The meeting of boy and girl in this book is disappointing to say the least. And, Tillie, the good girl, is smitten almost instantly. It completely goes against her character. But I guess I am supposed to believe this is a case of love at first sight. ONE day after meeting, Noah asks Tillie to marry him, and she says, "Yes." WHAT?! So, this is really like Romeo and Juliet? That story doesn't end well. Is the very beginning of this story setting up a tragedy? And to make matters more unbelievable, Noah decides to give up drugs and alcohol the night he asks Tillie to marry him. The next morning he wakes up and mentions that he feels really good, and decides to be a brand-new person. It is completely unbelievable. Getting over a drug and alcohol addiction takes more than one night of sleep.
I knowingly admit that I have some hang-ups. I am very particular about telling a Vietnam Vet's story. And, I have years of experience with teens, so I am pretty picky about how they are treated as well. There are some moments in this novel that are well written and engaging, and I see a lot of room for potential. But because of my hang-ups, the unbelievable plot lines — this book is dense, I didn't even come close to explaining all of the many plot lines in this one book — and stereotypical caricatures, I am sorry to say that I cannot recommend this novel.
Giveaway
Join Ta'Mara in celebrating the release of the second printing and new covers by entering to win her $75 prize basket giveaway!
One grand prize winner will receive:
A copy of The Pretender
A $75 Amazon gift card
A decorative box containing measuring cups, ten recipes from the book, a potholder, a kitchen towel, pepper and salt grinders, kitchen utensils, and an olive oil dispenser
Enter today by clicking the icon below, but hurry! The giveaway ends on October 11. The winner will be announced October 12 on the Litfuse blog.